Filter
All
Adidas
Chevrolet
Longchamp
Lululemon
Mirror
Xbox
We help global brands elevate creative ideas
 and produce award winning work.
We're a director-led creative studio
…made up of directors, producers and strategists who take action.
More About Us
How We Work With Us
Our Approach
We are strategic makers who know how to build creative frameworks that adapt and engage authentically with different platforms and channels.
Our Model
We curate the right world-class makers for each assignment. From production to creative to 360 campaigns. We mold our services around you.  You can work with us in 3 different ways:
PRODUCTION PARTNER
You're ready to hit the ground running with production, and need the right partner to execute your vision.
HYBRID PARTNER
Your brand has an internal creative team that has a concept and key messaging. You want a hybrid creative and production partner who can elevate your idea and execute it.
FULL PARTNER
You need it all – you have a marketing objective, but need strategy and creative development that can build a 360 campaign from the ground up – from concept through post production.
Our Mindset
Marketers are judged by what they make. We ensure your money prioritizes that too.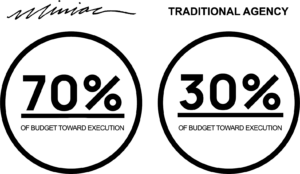 Do you have a potential project you need help with?