Filter
All
Adidas
Chevrolet
Longchamp
Lululemon
Mirror
Xbox
We help global brands elevate creative ideas
 and produce award winning work.
We're a production-led agency alternative
..where strategy, creative, and
production work in
lock-step
More About Us
How We Work With Us
Concept


elevation

Often internal creative teams already have an idea. They may even have art direction and a campaign line. Which means you probably don't need a concept overhaul that undoes the work that's already been approved. That's where Miniac shines – we build-off and build-out what you've already started instead of suggesting you start from scratch. We're the ideal partner if you need creative support elevating the idea and a production team to execute.
Team of
Specialists
Documentaries are edited differently than music videos.
Comedy writers don't usually write manifestos.
Strategists that work on sports brands aren't necessarily the best fit for an alcohol brand.
We believe creating work that works starts with casting a special team for each project, not inheriting whomever is available.
Money


on making

Production-led means we move into making faster than a traditional agency. Which means more budget goes on screen than into overhead and overthinking. We work with you to allocate more money from payroll-heavy costs to production: talented directors and editors, beautiful locations, high-end post treatments and much more, more often.
Less waste


results in more
money on screen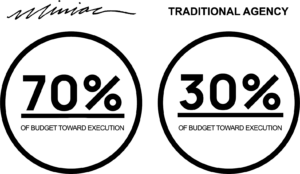 Do you have a potential project you need help with?